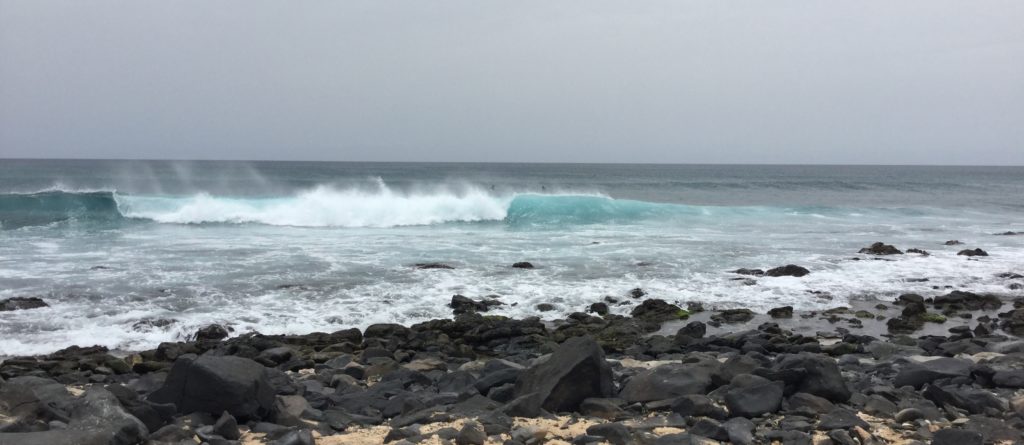 read and listen!
The best things often happen unexpectedly-how could we have ever known on Friday, April 28 that on Sunday we would be travelling to Cabo Verde Island? True, we have been planning a June concert on the lake with Grzech Piotrowski and maybe this was the issue in need of discussion or maybe it was just an excuse to meet. We use this pretext to meet from time to time and every time something new emerges after the meeting. This time, Grzech joined us for breakfast and as we all love a good discussion there was no shortage of topics, the concert just one of them. Frankly, why make much ado about nothing? We will build the stage, take care of marketing, tickets, food and drinks, Grzech will contact the artists and there-DONE! We did brood about the weather for a moment, but it was a fleeting one, as neither Grzech nor us are capable of worrying about something for long. All our luck combined, there is no need to fret, not really. So there we were- 'Grzech, what's up, where are you rushing to'? And he says to a festival in Cabo Verde. Well, I have seen bits and pieces from the first concert there in Volcano in 2015, so immediately I conjured the vision of azure water, sunlit sky and clouds of dust. Question time! When is the concert? On Sunday, he says, but we will start playing on Tuesday, will you come? Just like that! And why not?
Once again we devour the pictures of Cabo Verde, surf through Google images and the map. It's so far away! It's practically Africa, a blob of land in the ocean. The closest place is Dakar, about 450 nautical miles away. One airport, one road, 2 towns and a large jetty where the daily fish market takes place- a riot of colours and emotions. Here, points Grzech, we will play on the jetty. Irresistible, we must go! We fly via Brussels together with Ghostman, Adib Samun and Staszek Słowiński – loads of fun. In Sal airport we are welcomed by Grzech, Rasm Almashan and Grześ Młynarski, a legendary founder of Bohema Jazz Club, first in Olsztyn, then in Gdynia. We've been friends for ages and now Grześ has opened in Sal 'Maluko' jazz club- in local lingo 'maluko' means 'a nutter', 'a kook'. And after the greeting things kept just getting better and better. A taxi ride to the hotel, a quick change into the beachwear, a Mohito, a swim, a stroll in the main street of Santa Maria, well, the only street in Santa Maria, and off we go to 'Maluko'.
The club is SUPERB. A continuation of Bohema: red furniture, black and white floor tiles, black walls and an abundance of local knick-knacks. I love it, but I know that Grześx2 will paint the walls pastel. Well, let's wait and see how it will look. A small balcony with tables and red armchairs, the tops of palm trees swaying around. You can feel the throb of the Island, gaze at the emerald sea stretching to the horizon. Grześ shows us the bar – the drink of choice here is grog made from sugar cane and flavoured with different herbs, a bit like our Polish cordials, the best one was made with basil and another flavoured with strange fruit that looked like a peanut but had soft skin and a hard stone inside. Best drunk with ice and a slice of lime. Gorgeous drink. Ania Wandtke and Sebastian Wypych joined us for it and as they had arrived on the island before us they had a few ideas to share what to do there. Later a cook from Gambia served dinner-tuna, juicy, spicy pale pink inside- and vegetables stewed in sauce. Pure culinary delight.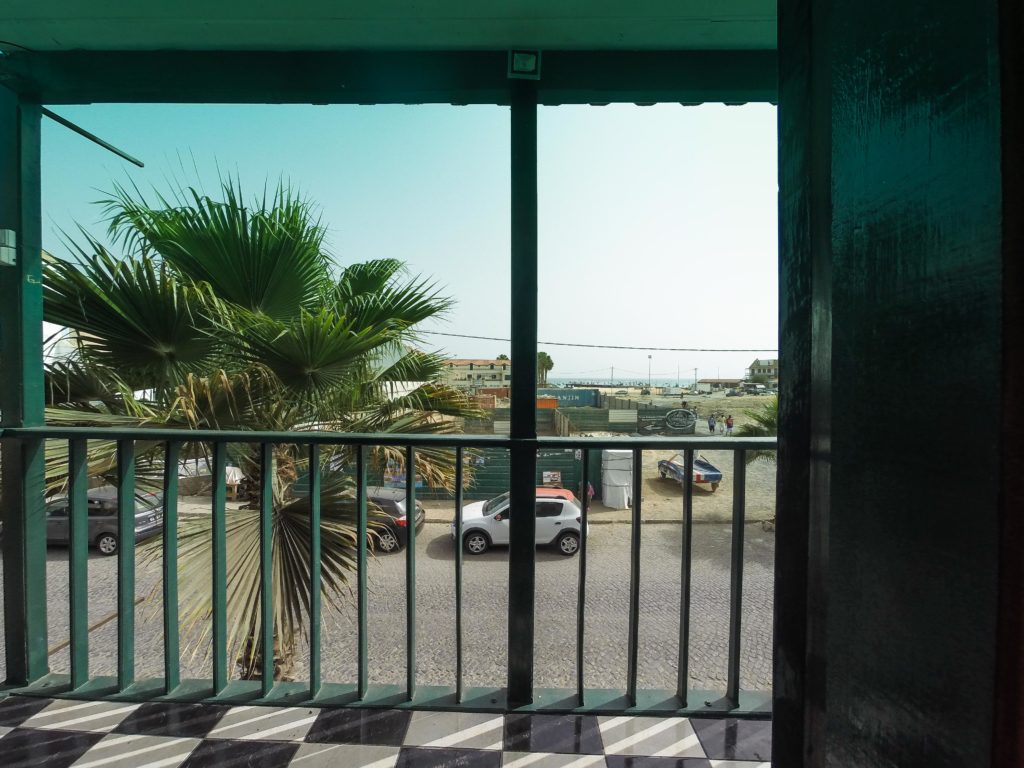 ---
After dinner Grzech et al decided to play some music. And what music it was! Some time ago, when Grzech made a 'One World' record with World Orchestra I thought nothing better could ever be composed. Wrong! The music he composed and played on the island was an explosion of energy that went into stratosphere. Five concerts, five explosion of energy, a feast of music performed by genuine, passionate artists.
The music itself was worth the long journey to get there. And in the morning, breakfast together and the search for a new place to eat it. A new place, not different food, because basically breakfast everywhere was the same: an omelette or catchupa (beans, egg, corn plus a bit of whatever in spicy salsa). And a cup of delicious coffee grown in Fogo Island.
Ok, time for a brief diatribe about the island itself. Cabo Verde is a volcanic island with completely infertile soil. Whatever soil there is it's nothing more than rusty dust covering the rocks spewed by a volcano eons ago. But surprise, surprise, if you plant a palm tree and water it will thrive like crazy. The only water is desalinated, nevertheless around the resorts there are lawns and fabulous creepers but basically no other plants grow there as few inhabitants can afford to pay for the water necessary to nurture greenery. The beach is covered in golden sand and the crystal clear water dazzles with emerald hues and beckons the locals to surf on the waves.
The only road will take you from one end of the island to the other in 40 minutes, and you will never loose sight of the other end either. In breadth, it is even more diminutive, but there is a beach for kite and windsurfing. Private cars are practically non-existent, the common mode of transportation is a taxi. Wherever you go the fare will be 2 Euros, 3 at night, and 13 to the airport. Even if you do not want a taxi, it will sneak behind your back and rumble invitingly. We practiced a special pose of I-do-not-wish-to-get –a-lift to be able to go for a walk in peace.
Our day had a simple rhythm: breakfast, beach or a trip to the interior, dinner at 5 pm in the club and music till wee hours. The musicians looked for fellow companions in the street and there were quite a few of them there, most eager to perform with our masters. It was like a festival- the people are open, warm and friendly, they are the descendants of the Portuguese who populated the island in 15 century and brought some Africans to work there as well. A handsome nation speaking Portuguese, Creole and some English. As the soil on the island is poor and infertile, the beaches are the jewels attracting the tourists and providing employment in resorts. A bit of industrial and agricultural activity can be found on other islands, mostly in Santiago, the capital of Cabo Verde Islands. The inhabitants travel from island to island by plane or by boat but it's not easily done. The plane is a bit too pricey for them and the waves on the sea are huge not to mention that the distance between the islands is 200-400 miles.
---
Interior
The weather, however, is great all year round even if the attractions are few: the beach, a few bars and restaurants in the main street, surfboarding and kite surfing, quad trips into the interior. From a stony beach hidden in red dust tourists can wade into the water and look for sharks. Rubber boots borrowed from a local surf on their feet, mobiles ready to snap pictures in one hand, shorts pulled up to keep them from getting wet in the other (a senseless precaution as sooner or later a wave will drench them up to their necks). A salt bath in the crater of a volcano, where Grzech gave a concert during the first festival, is another attraction. The water is so salt saturated it is impossible to submerge completely but it does have health boosting properties. We went there in a rented quad and arrived caked with dust, plus the clothes were beyond redemption and qualified solely for the trash can.
Tuna
Another important thing is tuna. On the only jetty on the island a fish market is held daily. Colourful, wooden boats come to the jetty every few minutes and unload fish: tuna, one meter in length, some scale covered monsters, dorada and some kind of small, pretty red fish. On the jetty people wearing colourful clothes, men, women and children, busily clean and fillet the fish. The customers come and buy the fish by wheelbarrow to take it to restaurants. On the island there is no animal husbandry, not even a chicken farm, so fish is the staple of the diet. There is a supermarket selling meat, but I guess it was the same stuff like anywhere else in the world, so we stuck to fish
---
There isn't much more to say about the island itself but there are quite a few stories to be told about the people. Andrea, called the 'princess of the island', runs a shop with organic goods and teaches local girls and women traditional dance. The dance involves energetic hip swinging while the head remains motionless. Actually, the head is kept so still you could place a drink on top of it and it would sit there peacefully while they kept dancing. We met some local women who accompany the dancers on drums and some musicians, cooks, sculptors and a tailor who turned out to be a musician too (we all had some clothes made in his workshop and Ania played a baby concert with him). In a small restaurant with a TV set we tried moray while watching the Portuguese team play football, we savoured a pancake for breakfast that took two hours coming and indulged in grog-daily!
But without the two Grzechs and the musicians neither the tuna nor the exotic island would have been perfect. It is them and their music that have turned this trip into a metaphysical experience. I believe such moments are worth putting everything on hold, follow the urge to do something spontaneous and immerse yourself in a different reality.
We were here:
Grzech Piotrowski, saksofon i rdzeń, zarzewie tego grania, Polska
Rasm Almashan, głos, Jemen
Ania Wandtke, skrzypce, Polska
Sebastian Wypych, bas, Polska
Adeb Chamoun, rytmy, Syria
Staszek Słowiński, skrzypce, Polska
Ghostman, głos, Polska
and
Galernicy69 as groupies: Małgosia & Wojtek Żółtowscy
And this is what we have for you in Galery69 in June!
---