---
Time for reflection.
5th December in Artistic Loft – in other words our gallery hall – there took place a vernissage of Jan Pruski' art and a concert of Grzech Piotrowski who played a duet with Indian tablist, Rahul Pophali.
First of all, Jan Pruski asked many questions showing his works. He gave no answers, because he does not speak about the meaning of his paintings. He avoids the subject, weaselled out, doesn't give an answer. The only way to learn something is to study the personality of Jan and a contemplation of his works with reference to own experiences and emotions. I lean the fragmentary knowledge of Jan's life, which one he prefer to pass over or treat as unimportant. We couldn't be more wrong. Therefore, from scraps of revealed life, time spent together and varieties of his works – I comment on his art and build my relation with Jan' works.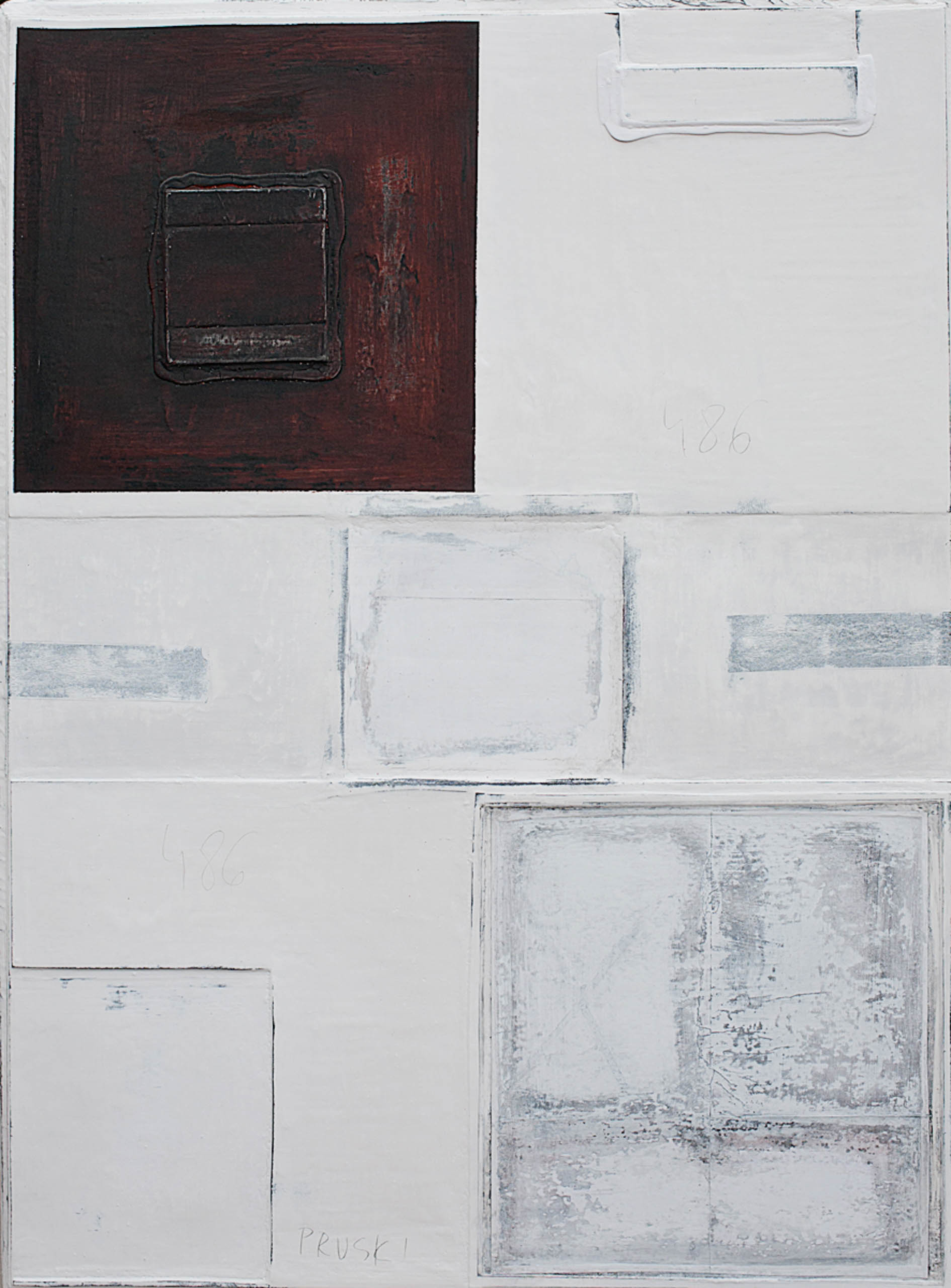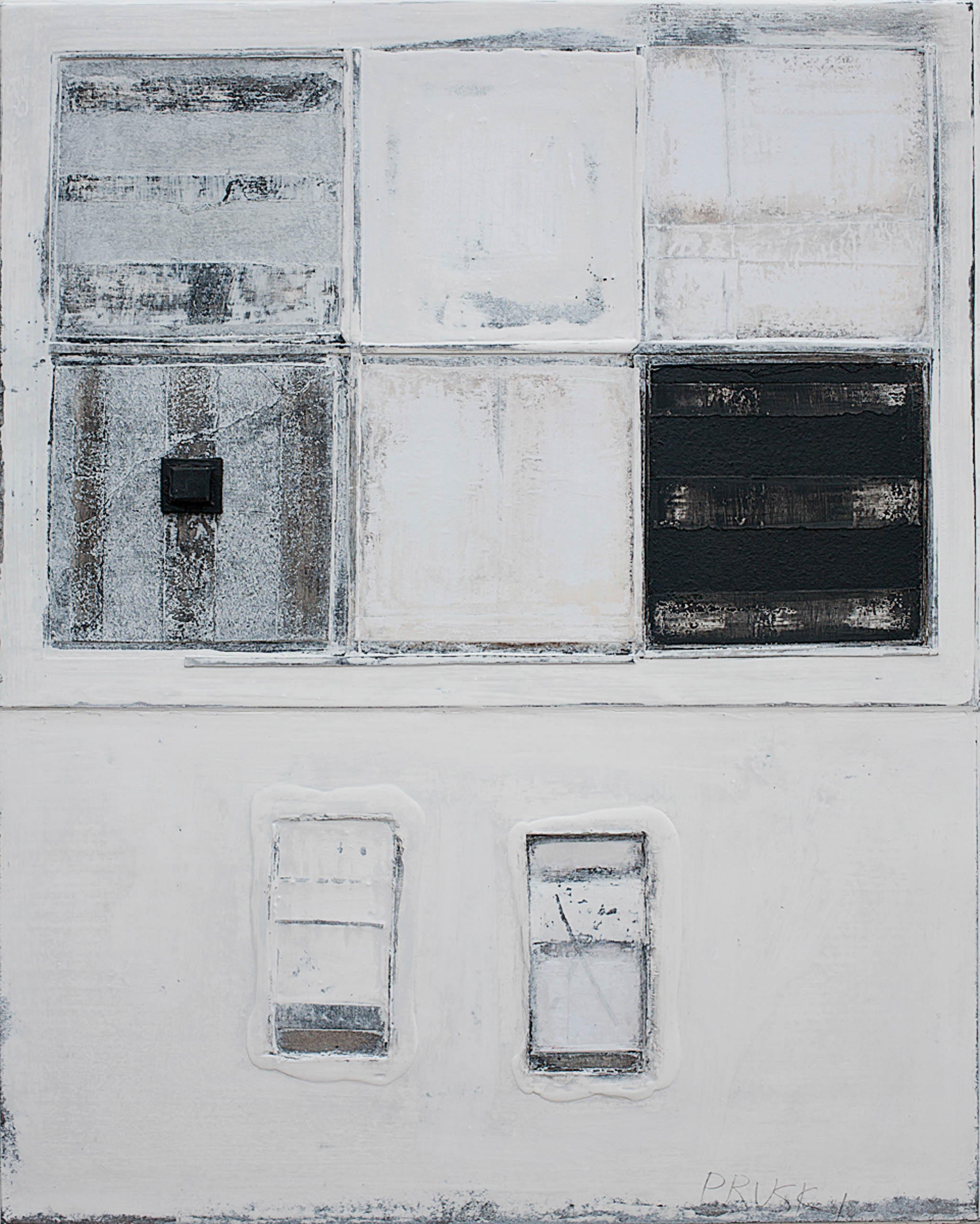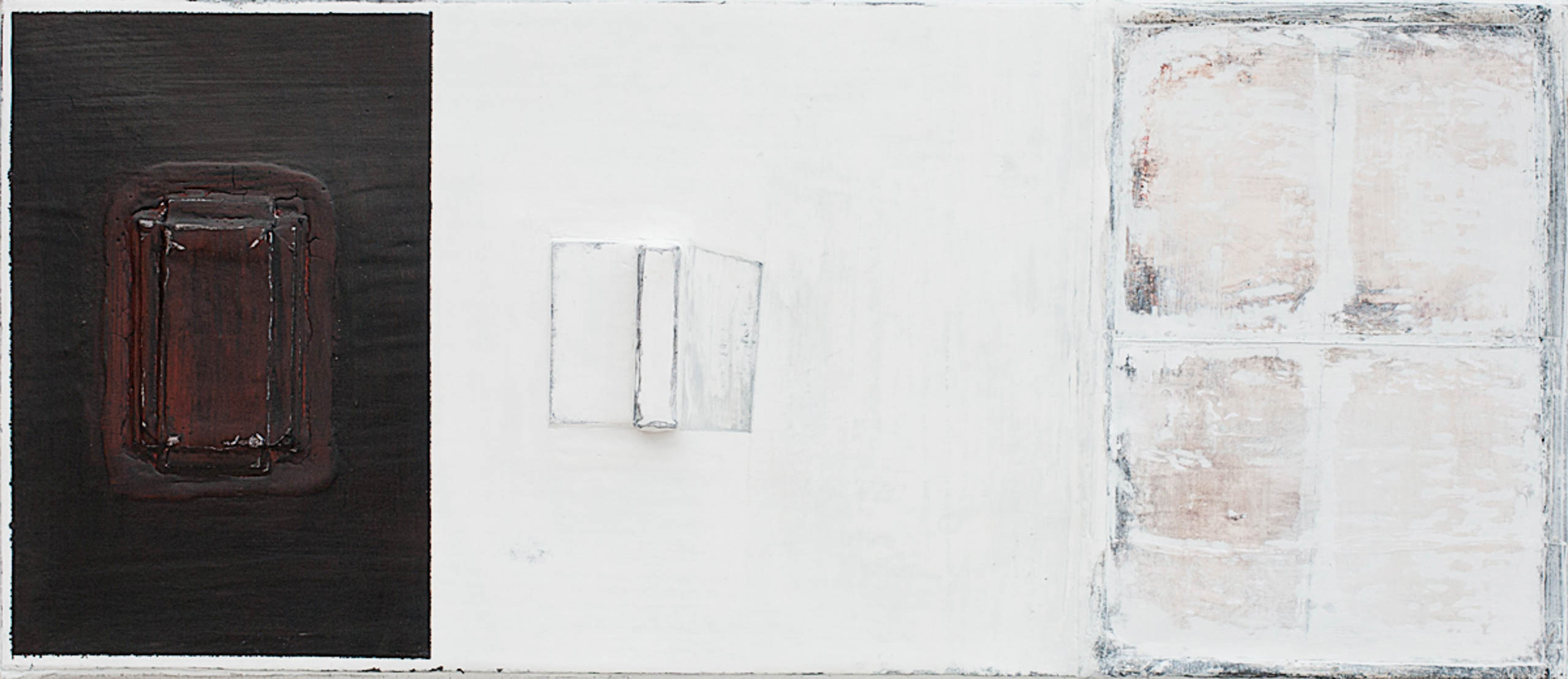 For me the latest exhibition  is a continuation of "windows series" which send to considerations… To work out Jan Pruski is not so simple. You walk, consider, think over… And somewhere, far away from paintings, it flashed through my mind that I know these WINDOWS.  The windows of places which we did not dare to come get to. Windows of big museums and galleries, of outstanding artists who succeeded to become known, and windows of friends, who shown them their indifference. Hazy windows, frosted of cold unapproachability. The only place we have is outside, where like the little match girl we are waiting for a warm little flame. Will we ever find ourselves on the other side? They are there – I still stick here. I'm waiting. The sadness, delicate hope and huge shyness lie in wait for us.
This shyness I read from Jan. And anger, too. These are his dominating features –shyness and anger. The anger of man who does not allow for immorality. He has just talked about it. He is always clear in paintings dedicated to prisoners of concentration camps and victims of everyday quiet violence. In each part of his life, Jan talks about current emotional states –there were erotic, landscapes, works simply aesthetic which proved his present life's harmony, and also these which were dripping with black, conveying chaos and destruction and illustrating disintegration of family and friends' relationships. Emotions always. His works are full of them and they always bring subjects up deeply.
There is no place to lack expression. And even thought suddenly Jan' works became white, they don't become blank. The white emanates as a most vivid colour. A lot of things happen in it. Maybe it's the end, or maybe a beginning? We don't know that – yet, because to be continued.
Damn, Jan! You are not alone below these windows. There are lots of us here and we all look through them trying to guess how to get inside. How to be there where THIS is understanding and value? What does decide about the way to these places? This question is very significant and the answer demands own place. So, not this time.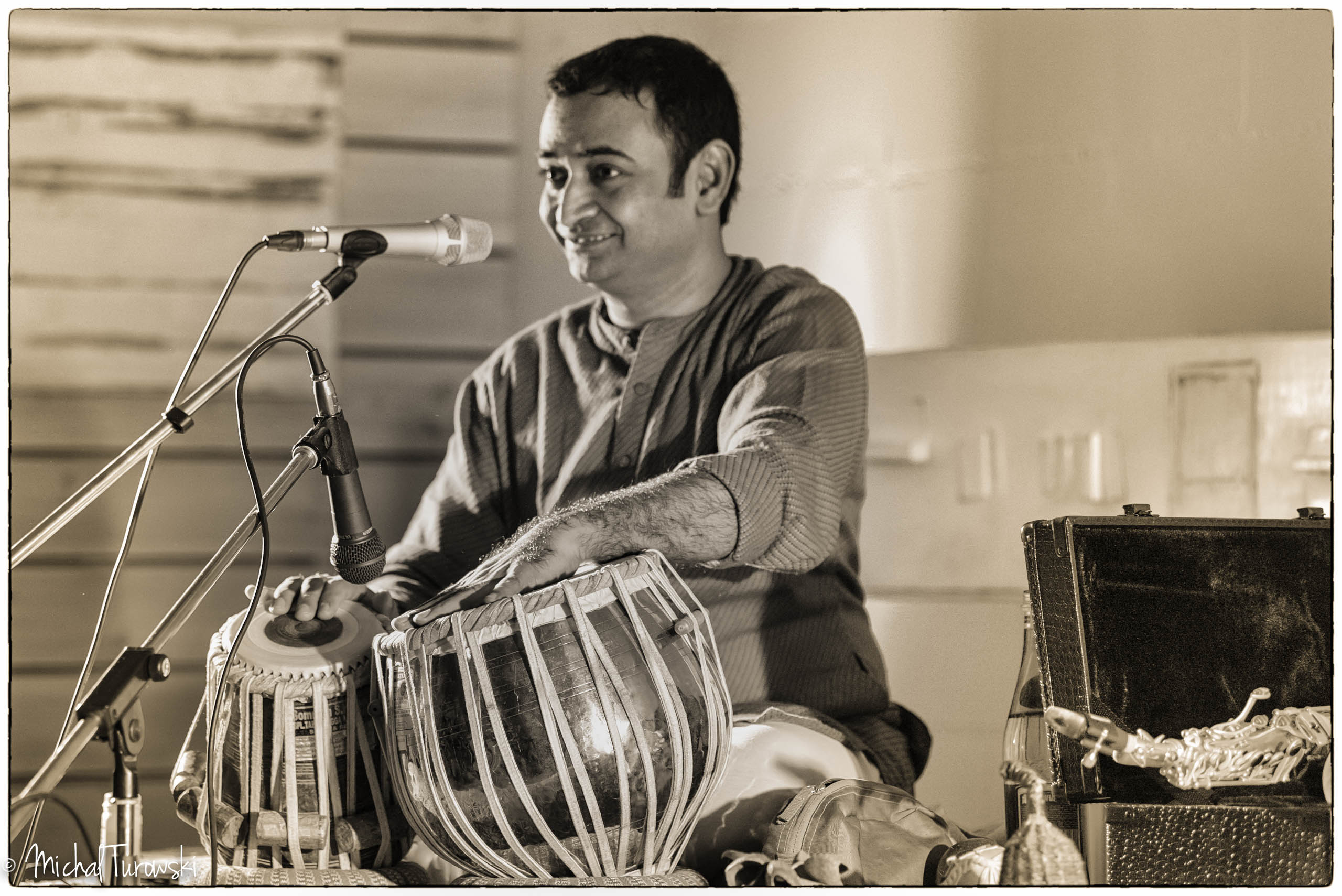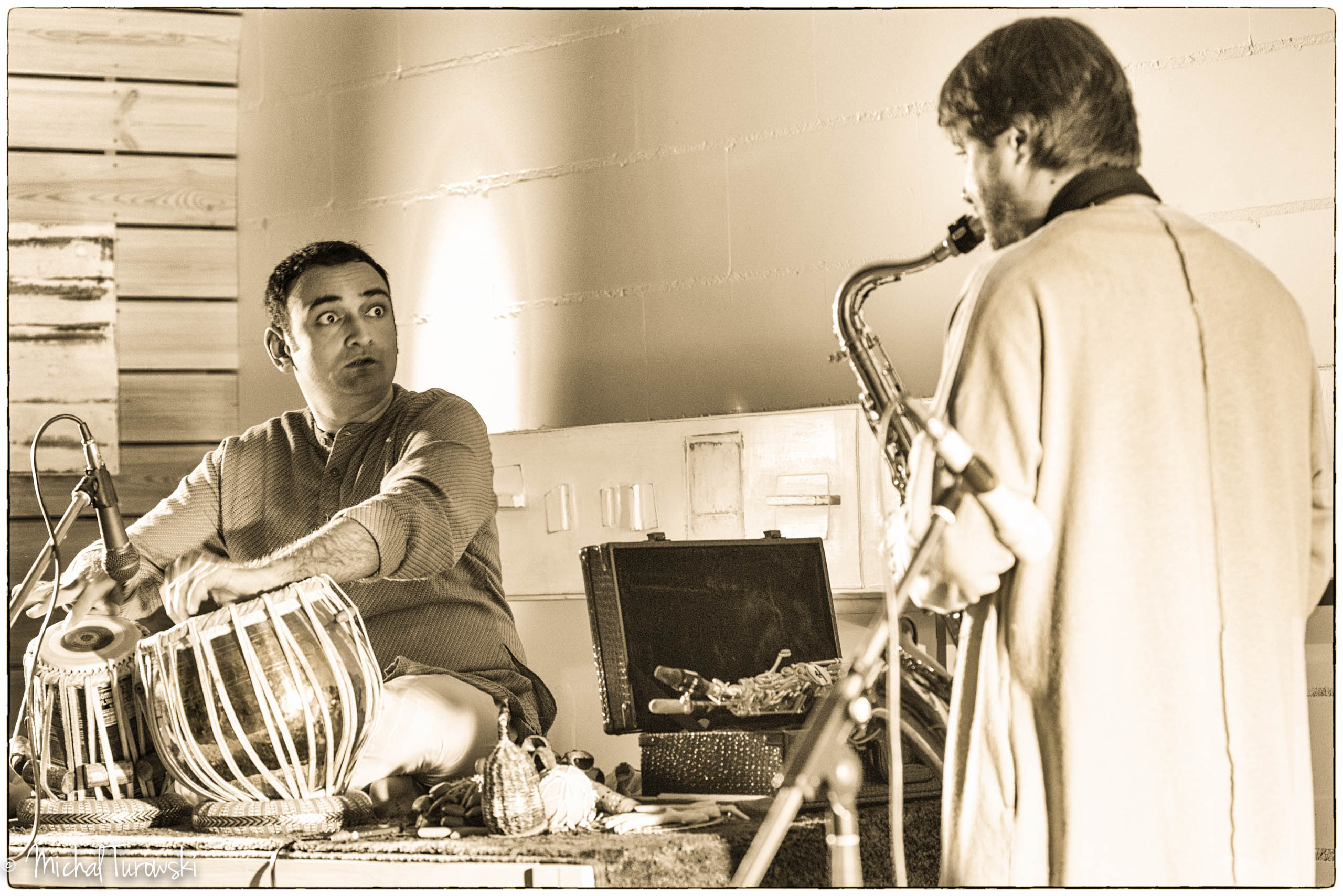 Music has  simpler way to cross THESE borders. Through wave, river or creek it filters to our space, reaching us with easiness. Therefore, after inconceivably resonant concert, Grzech opened his suitcase and the CD's from his value collection spread to people. In it, the latest one –  "World Orchestra", with record  of fantastic concert from Gdańsk. Few words about concert in Galery69. Duet set us on fire with variety of sounds and rhythms. We were not able to take photo of Rahul' hands by sports shutter. He is a table's virtuoso – very important percussion instrument in India.
Grzech' multi-saxophone resounded so diversely like never before. It happened through a device, which systematically recorded the music only to after a while plays with Grzech in next part of saxophone. A lot of records which overlapped resounded together and made an unbelievable effect – as an orchestra, exactly. "World", of course.
For this visual-sounds  moments and some new thoughts written in mind it was worth to be in Galery69.
Works of Jan Pruski we are honoured to store in our gallery till the end of January 2014. Next, in February, the collection will be exhibited in "Galeria Kuratorium" in Warsaw, on Sienna str. 43A.
Record "World Orchestra", CD+DVD, available in Empik. I truly recommend! buy CD+DVD!
---